Today's violent conflicts are complex, increasingly protracted and no longer defined by national borders. They are also frequently linked to global challenges such as climate change, natural disasters, cyber security and transnational organized crime. Contemporary conflicts have taken on new forms, featuring not only conventional warfare between state armies but also non-state armed groups, criminal gangs, drug-traffickers and terrorists. Europe that has not seen wars of aggression between states since the end of World War II, with the exception of the Bosnian War, is now again shockingly faced with the challenge of a war on its continent, with Russia's invasion of Ukraine.
The shifting nature of war has made peacemaking more difficult. International cooperation and investment in peacebuilding and conflict prevention has never been more important. At the same time unrelenting attacks on multilateralism makes it harder to build consensus to tackle these global threats. To build sustainable peace the international community needs to re-frame how it approaches the design and implementation of peace processes to solve these collective challenges.
Past and recent peace efforts have repeatedly demonstrated that inclusivity of diverse and representative voices is a crucial component of sustainable peace. Why do so few women participate in high-level peacemaking? Where are the voices of young people? All too often peace processes struggle to engage all relevant actors and fail to adequately engage the rest of society. Reaching a peace agreement is of course only half the battle, as the participation and commitment of the whole community is central to the implementation of a peace agreement.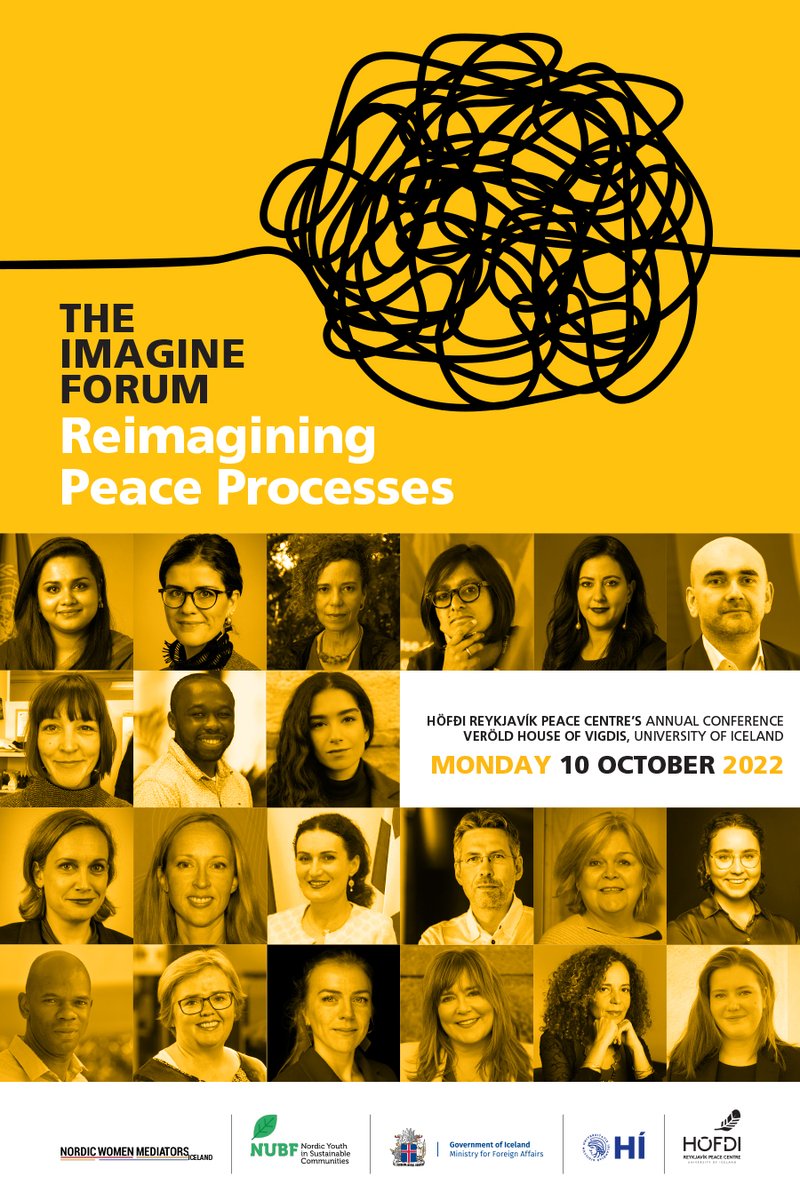 At this Imagine Forum the focus was on how we can address the shortcomings of contemporary approaches to peace building and develop effective and inclusive peace processes for the future.
Among speakers were: Þórdís Kolbrún Gylfadóttir, Minister for Foreign Affairs, Thania Paffenholz, Executive Director of Inclusive Peace, Ketevan Tsikhelashvili, Ambassador of Georgia to Austria, Jayathma Wickramanayake, the UN Secretary-General's Envoy on Youth, Jón Ólafsson, Professor at the Faculty of Icelandic and Comparative Cultural Studies at the University of Iceland, Asif Khan, Officer in Charge of the Policy & Mediation Division and Chief of the Mediation Support Unit at the UN, Hiba Qasas, Director of Secretariat of the Principles for Peace Initiative, Interpeace, Dr. Marsha Henry, Associate Professor, Department of Gender Studies, LSE, Dr. Jannie Lilja, SIPRI's Director of Studies for Peace and Development, Kirsi Joenpolvi, Senior Peacebuilding Officer, Peacebuilding Commission Support Branch United Nations Department of Political and Peacebuilding Affairs, Rodrigo Mezú, Officer in the Colombian Air Force and researcher at the Air Force Academy Colombia, Louise Olsson, Research Director, Department of Global Politics, Norms and Society, Peace Research Institute Oslo (PRIO), Julie Arnfred Bojesen, Director of the Ukrainian-Danish Youth House, Karolina Lång, Lawyer and Former Youth Delegate of Finland to the Nordic Council of Ministers and Niusha Khanmohammadi, Peace and Culture Specialist and Artist.